Hot Sales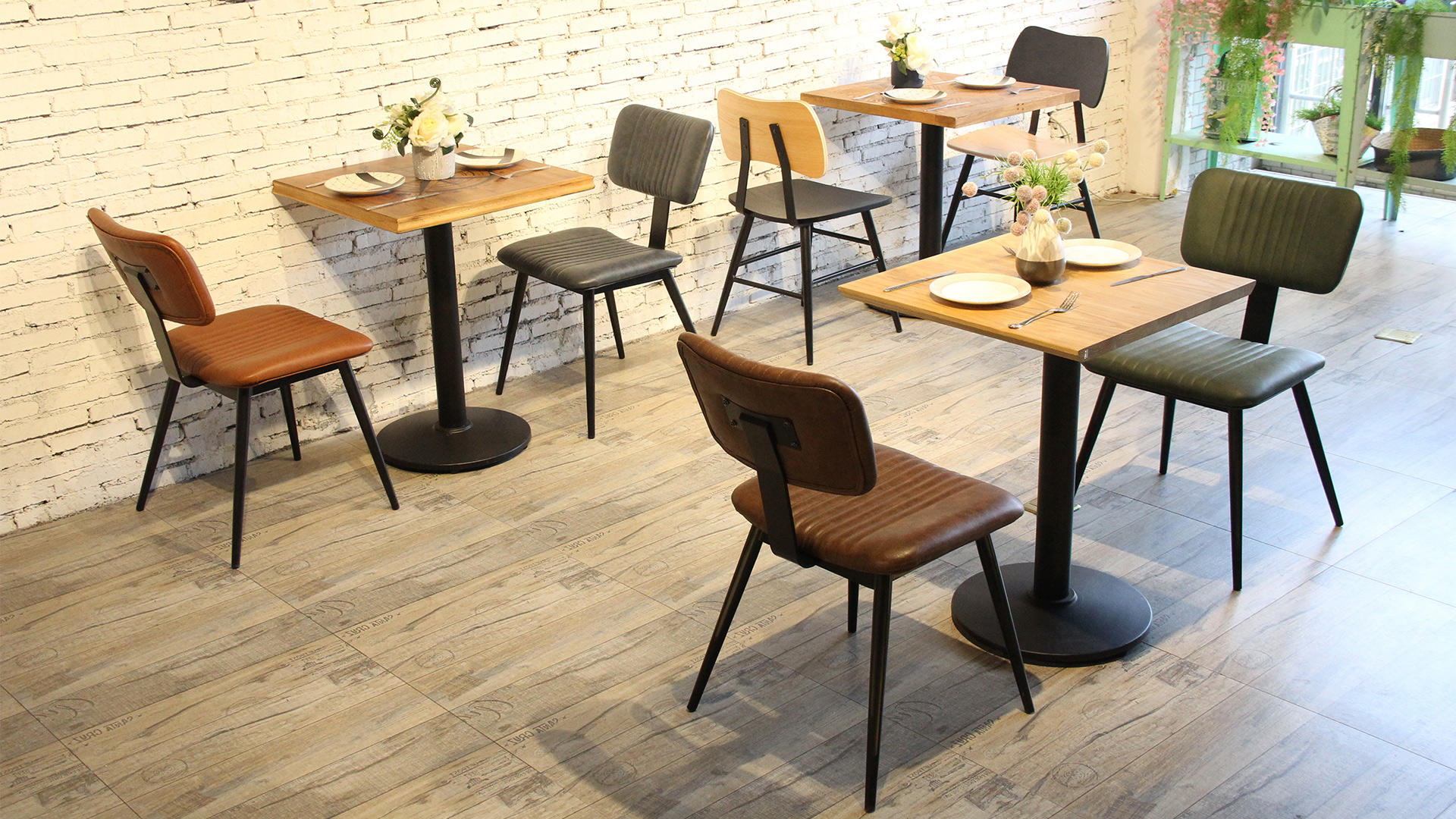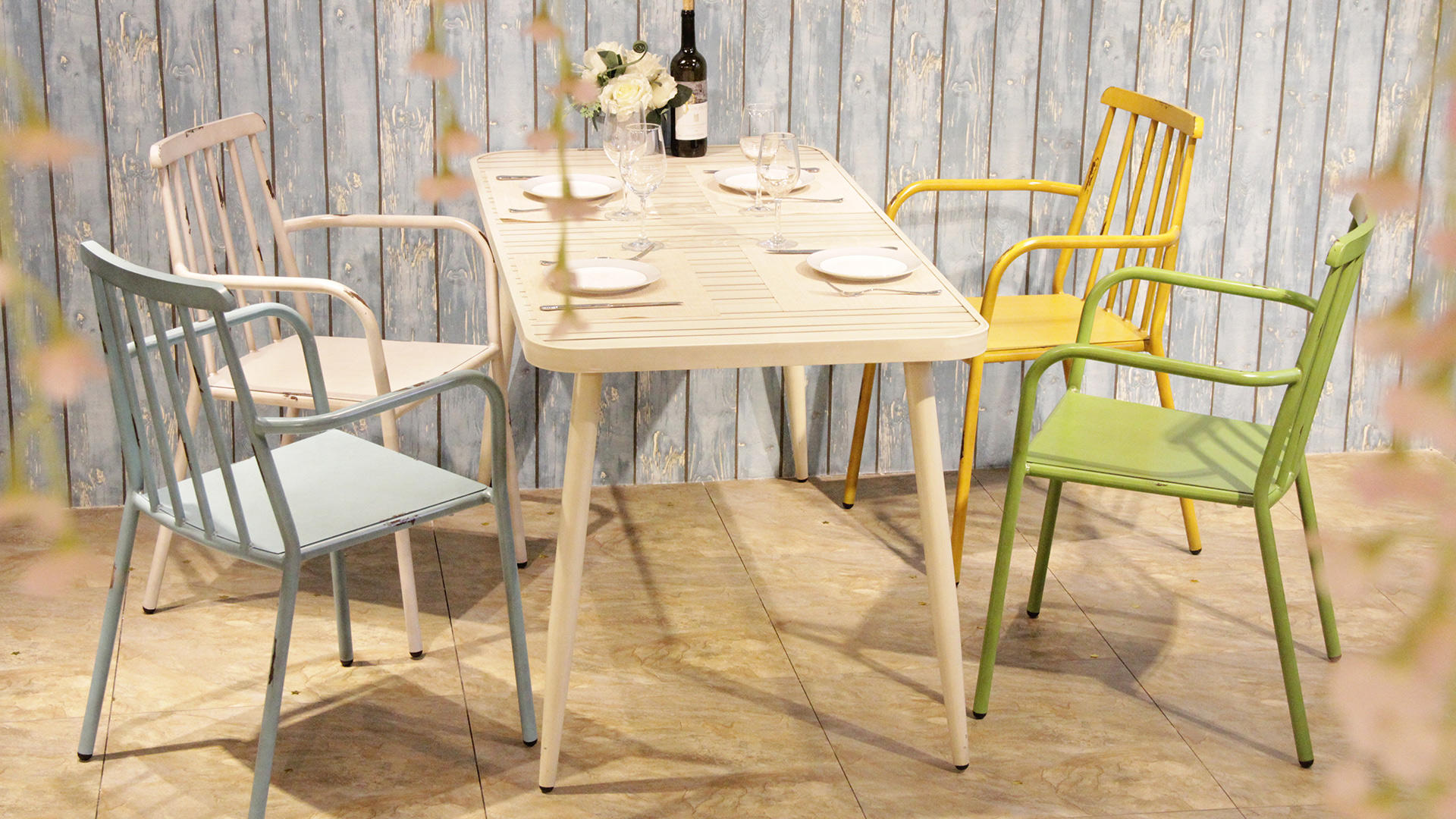 CDG Furniture continues to launch original design restaurant furniture tabel and chair products. Around different independent styles of furniture products, there are indoor dining tables and chairs, outdoor dining tables and chairs, aluminum dining tables and chairs suitable for multiple occasions, dining chairs combined with iron and wood, and dining chairs combined with iron and leather.
We create products of different styles to present customers with a unique and fresh dining space. Different types of restaurant enterprises will have different styles of restaurant furniture, from the tables and chairs of fresh and minimalist restaurants in Nordic style, to the tables and chairs of modern pastoral fashion colors, to the tables and chairs of chain brand restaurants, and the solid wood tables and chairs of coffee shop restaurants.
All these are CDG Furniture's thinking and interpretation of restaurant style and restaurant furniture. We no longer focus on the innovation of restaurant furniture, but to create a new restaurant space concept for customers.
CDG Furniture : The First Choice Of Restaurant Furniture

Founded in 2006, CDG Furniture is a manufacturer specializing in the design, development, production and sales of modern restaurant chairs of catering furniture. It has long been committed to creating perfect catering furniture products for customers, such as western restaurant furniture, coffee shop furniture, tea restaurant furniture, bar furniture, chain restaurant furniture and so on.

705 series coffee shop furniture

All CDG always adhere to the spirit of "development, innovation, positive enterprising and exploring the peak of the industry", and focus on the continuous innovation of products. Our purpose is to "build CDG Furniture into a world-class furniture brand"!

658 series products chain restaurant furniture

CDG Furniture as one of the restaurant table manufactures in China, we provide customers with professional catering and restaurant furniture design schemes, and provides customers with the most suitable catering and restaurant furniture products, which saves you worry, time and effort!

New product Express

1. Fresh fashion color matching, soft space vision, delicate metal texture, ingenious structural design and the perfect combination of beauty and comfort can be used alone in cafes, chain restaurants and outdoor Western restaurants to provide you with high-quality dining services.

796 series products restaurant furniture

2. Exquisite welding technology creates a stable dining chair skeleton. The ergonomic design with a degree of bending of the sitting surface and backrest makes the sitting feel more comfortable. It is suitable for simple home and modern business, with both appearance and durability.

798 series products catering furniture

3. The curved arc backrest can support your body safely, and is matched with a comfortable and considerate leather seat surface. This is an extremely simple Nordic style dining chair. The color is retro and simple, both neutral and elegant. There is no need to stick to a fixed space collocation.

828 series products western restaurant furniture
Fresh And Simple Outdoor Furniture Products

Outdoor aluminum chair furniture products, especially aluminum or metal outdoor furniture products, are also one of the specialties of CDG Furniture. Together with famous European designers, we have launched a variety of Nordic style, British style, French romantic and Italian light luxury outdoor furniture products.

It is simple but not simple. It is made of high-quality all aluminum. Combined with the scientific sitting posture design of human body, it feels comfortable and durable. It is suitable for both indoor and outdoor. It embellishes life with a slow pace, makes life easier and more comfortable, and meets happiness by chance in a soft time.

763 series products outdoor furniture

European classic style, beautiful shape, strong and durable, comfortable to sit. The horizontal aluminum plate and outdoor coffee table is combined with the all aluminum Windsor dining chair. It is simple and pure, beautiful and simple, full of creativity and characteristic life concept. It yearns for simplicity and freshness to give you a comfortable and safe dining environment.

737 series products garden furniture
Restaurant Tables And Chairs With Both Appearance And Practicality

When buying restaurant furniture, tables and chairs, the first thing the restaurant owner notices is its appearance, which is the first criterion for purchasing restaurant tables and chairs. However, no matter the dining tables and chairs in fast food restaurants, Chinese restaurants, Western restaurants, coffee shops, snack bars and milk tea shops, we seem to forget that the use function of dining tables and chairs is the first nature. There are so many kinds of restaurant tables and chairs in the market, with various styles and colorful colors. In the face of a wide range of restaurant tables and chairs, how should we correctly choose the suitable restaurant tables and chairs with both appearance and practicability?

Simple Nordic dining tables and chairs

Nowadays, with the prevalence of simple Nordic style, many diners began to design the restaurant as Nordic Industrial style. In Nordic style restaurants, the wooden and metal dining tables and chairs are favored by many owners. As shown in the figure below, the seemingly simple dining table and chair with the perfect combination of wood and iron of Jiemei furniture presents the ultimate simplicity of the product through its style design and process design, creating a fresh and elegant Nordic style, beautiful and practical.

Dining tables and chairs of different colors

Restaurant furniture should refuse a layer of constant color, which can be a combination of two or three colors. Under the embellishment of different colors, the restaurant has a sense of hierarchy and is not so monotonous. As shown in the figure below, the perfect combination of the colored dining chair and dining table of Jiemei furniture creates a colorful dining environment and lights up the whole restaurant space. It is also the most popular choice of online red restaurant in recent years.

Mixed style dining tables and chairs

The tables and chairs in the restaurant cannot be arranged too crowded, which will make the restaurant narrow; Tables and chairs shall also be placed in layers, and they shall not be placed at will. As shown in the figure below, tables of different sizes can be combined and spliced freely, which is most suitable for different dining groups. The aluminum table is convenient for moving and handling, and the style is small and fresh. The dining chair is perfectly matched. It is a combination of tables and chairs that can be used in indoor or outdoor scenes, with great practicability and durability.

China Guangzhou CDG Furniture Co., Ltd. is a catering furniture brand company for more than ten years. It is a furniture manufacturer specializing in the design, development, production and sales of restaurant furniture. It has long been professionally committed to the professional design, production and customization of western restaurant furniture, coffee shop furniture, tea restaurant furniture, bar furniture, chain catering furniture and other series of furniture.
The Elements You Want Can Be Satisfied With CDG Furniture

As people's living standards become higher and higher, people who own villas or manors will have their own private gardens and will carefully design their own gardens. It is inevitable to purchase outdoor garden furniture to provide leisure for family and friends. For outdoor entertainment venues, let's take a look at the small and fresh outdoor garden furniture products designed by CDG Furniture.

Many people decorate their home's balcony to be comfortable and pleasant. One of the indispensable is to place furniture in the balcony, but the balcony furniture is not like the furniture in the room, which can not experience wind and rain, so balcony furniture You need to choose some furniture that can experience wind and rain. Please appreciate the unique balcony furniture products of CDG Furniture.

There is nothing like sitting on an open-air cafe dining chair in the afternoon, lazily basking in the sun, tasting afternoon tea with a slight sleepiness, or holding a beloved novel, asking for a cup of blue Batak, quietly It is more comfortable to immerse yourself in the book world. Such a beautiful afternoon tea corner requires the store to use the open-air dining chair and table design and make full use of the open-air sun and breeze to decorate a cozy and comfortable rest space. Please carefully taste the outdoor dining furniture products carefully matched by CDG Furniture. .

Whether it's the simple and fresh Nordic style, the leisurely Mediterranean style, or the natural and rustic retro style, the outdoor space creation of CDG Furniture will always provide you with a place for you Spend every leisure time quietly.
The Secrets Of Restaurant Furniture Care And Maintenance

Today, CDG Furniture will talk to you about the care and maintenance of restaurant furniture. Before understanding the care and maintenance, let's first understand the history of restaurant furniture: dining tables and chairs are often used in human daily life and social activities. Utensils and furniture for sitting, lying, resting, leaning, eating and other functions. It is usually assembled by several parts and components according to a certain joining method. Dining furniture mainly includes the following categories, dining chairs, bar stools, dining tables, bar tables, turntables, dining cabinets, wine cabinets, trash cabinets, hangers, dining carts, babe chairs, tablecloths, table skirts, chair covers, mouth cloths, linens Wait. How to maintain and maintain it?

The care and maintenance methods of restaurant furniture:

The biggest advantage of solid wood resturant chairs dining furniture is the natural wood grain and the varied natural colors. Since solid wood is an organism that constantly breathes, it is recommended to be placed in an environment with suitable temperature and humidity. At the same time, avoid beverages, chemicals or overheated objects on the surface to avoid damage to the natural color of the wooden surface. If it is made of solid wood board, when there is a lot of dirt, it is recommended to use a diluted neutral detergent and warm water to wipe it once, and then wipe it with clean water. Remember to wipe off the residual water stains with a soft dry cloth. After it is completely wiped, Then use the maintenance wax to polish, even if you are done, only by paying attention to daily cleaning and maintenance can the solid wood furniture last forever.

When using metal restaurant furniture, avoid bumping as much as possible to prevent surface damage from causing deformation or paint peeling. When placing it, handle it gently, keep it level, and keep a certain distance from the wall. The ground should be kept dry to prevent moisture and alkalization. Avoid contact with acid and alkali liquids to prevent metal dining furniture from being corroded. The surface of metal dining furniture should be kept clean. If the surface is not clean, wipe it with clean water first, and then wipe it with a dry cloth. When moving, keep your hands light, avoid violent impacts, don't hit the furniture with hard objects, and avoid sharp objects hitting the concrete surface of the metal restaurant.
Simple And Comfortable Thonet Restaurant Chair

Coffee culture began in developed countries in Europe and the United States and gradually became popular all over the world. Nowadays, more and more cafes in China are blooming all over the country. You can find a coffee restaurant from fashionable old streets to popular ancient towns, to the riverside of big cities and to prosperous shopping centers.

A good coffee restaurant is not only a dining place, but also a popular gathering and exchange place. The overall environment is cheerful and bright, revealing the hospitality to customers.

The simple interior design shows the designer's concept. The use of Thonet restaurant chairs injects new vitality into it, gives people a sense of nostalgia and familiarity, and fully shows the aesthetic feeling of modernist furniture space.

It is not only a cafe, but also a shared office area. Office and cafe coexist. People in the office area often patronize the cafe, which generates community awareness and promotes knowledge sharing and ideological exchange.
CONTACT US


Guangzhou CDG Furniture Co., Ltd.
We are always providing our customers with reliable products and considerate services.
If you would like to keep touch with us directly, please go to contact us