CONTACT US
SEND INQUIRY NOW
By: CDG
Date: 29/08/2023
Email: cdg01@cdgfurniture.com
Tel: +86-20-36933270 / 36933272 / 36933273 / 36853567
MP & WeChat & WhatsApp: +86-13926103331 (Ms.Lisa Liang)
CDG Luxembourg Range Series Chair And Table
Decor your colorful balcony !  We CDG Luxembourg range are includes dining chair, arms chair, dining table, lounger, and footrest. But today we would like strongly promote the longer, coffee table and footrest with you.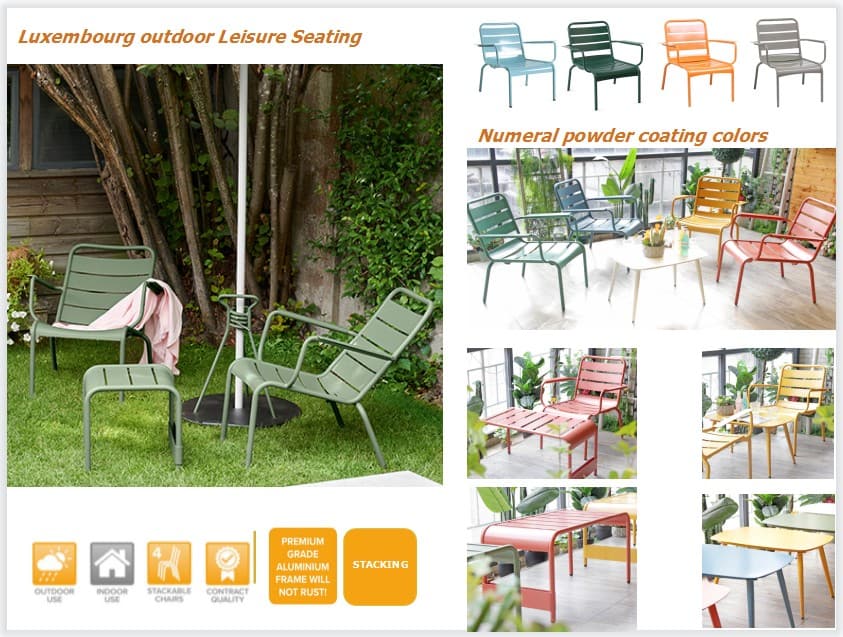 Lounger 701C-ALU
Size: 71.5*75*74cm 
Frame: Aluminium
Packing: 26pcs/stack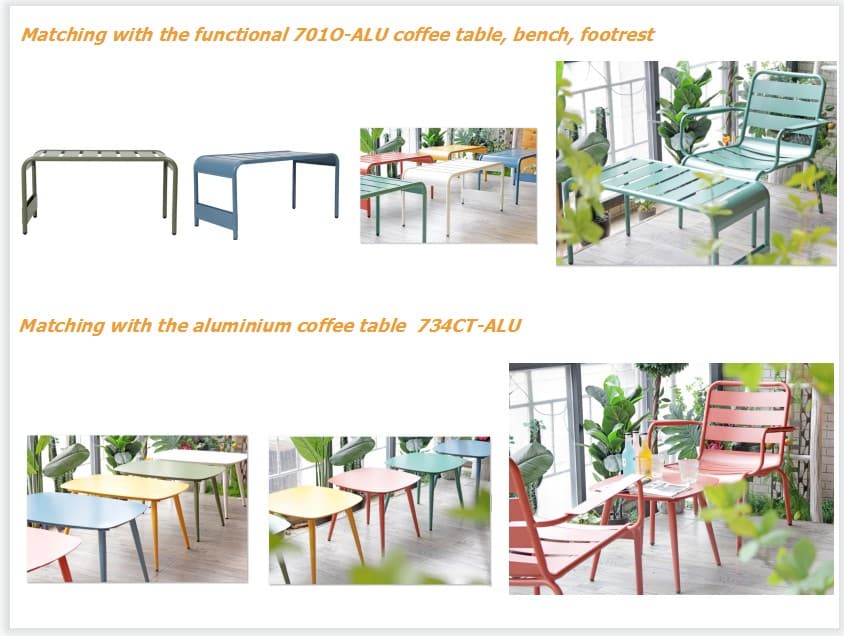 Footrest 701O-ALU
Size: 71.5*75*74cm 
Frame: Aluminium
Packing: 2pcs/ctn 
Coffee table 743CT-ALU-L
Size:50*50*H40
Frame: Aluminium
Packing: 1pc/ctn 
As the influence of Covid, we are stay at home of the most of time. 
How to make we stay at home but enjoy the sun at the same time ? 
We can try to decor our balcony, patio and garden with the comfortable" furniture, and the colorful element will make we with the good mood.  If you are looking for attractive modern ideas to make your balcony elegant and colorful , luxembourg range are suitable design solution. Be inspired and choose the original and attractive way to design the exterior, using the different features and garden furniture with numerous colors to create a pleasant recreation area on the balcony and enjoy your free time there.  We CDG is a manufacturer of metal garden furniture with 15 years history, we use good quality aluminium and car painting to make sure our garden furniture with guarantee long life outdoor use.  Welcome to review our website for more design: www.cdgfurniture.com.